THE DOMESTIC FESTIVALS CELEBRATED AT THE END OF YEAR 2014
Shopping Thailand products in Hanoi or take part in "Taste of the world" in Ho Chi Minh city are attractive tourism activities for visitors and residents throughout the country during the last month of this year.
HANOI
The 6th Les Arômes festival
Les Arômes is the food festival dedicated to the most famous chefs in the world. Held for the first time in 2005, until now, the festival has attracted thousands of interested views and follow-up. Coming here, you will have chance to learn the art of modern high-end cuisine and meet the talented chefs. It takes place from 28/11 to 5/12 at Metropole hotel.
Japanese cultural festival welcoming New Year
On 27 – 28/12, this festival will be held at the Giang Vo exhibition Centre. A range of exciting and attractive activities are held such as display Japanese souvenirs, enjoy cuisine, etc. This is a hearty party for those who love the culture of cherry blossom country.
Hanoi art fair
If you are a lover of the arts, you should not ignore Art fair is held the first time in the capital. This event combines spiritual culture from ancient Vietnamese market and apply more art fair model from developed countries.
Visitors will have chance to admire the works of paintings, statues, arrangements, handicraft products of 59 individual and group artists. It takes place from 5 – 28/12 in Hang Da trade center.
Consumer fair and Christmas gifts
During 22 – 28/12, Consumer Fair and Christmas gifts will be held at Thong Nhat park. The stores here include consumer products, fashion textiles and beauty care instruments, etc. In particular on Christmas Eve, it will take place the program "Santa Claus gives free gifts" for customers visiting and shopping.
Thailand's festival
The opportunity for those who love Thailand culture on 6/12. Accordingly, Thailand's festival program will be held at Thong Nhat park by Embassy and Thailand tourism office. Operating time from 15 – 22:00.
Tourists have chance to taste many delicious dishes at Thailand's festival.
Joining this festival, you will have the opportunity to interact with the Thailand community in Vietnam and purchase products featured of this country as fruits, food and craft, etc.
HUE
"Unique footprint" and "The charm coins" exhibitions
Taking place in Hue from 28/11 – 5/12, "Unique footprint" and "The charm coins" exhibitions are the exciting events that you can participate. The program exhibits works about social – culture changes in the period of globalization. Then, visitors are taken to the cultural experience created human.
DA NANG
Vietnamese consumer goods fair
To support the campaign "The Vietnamese give priority to use Vietnamese goods", on 10 – 15/12, Da Nang Vietnamese consumer goods fair will be held at Trade fair centre. This program has the participation of 300 booths of all trades, promises to bring to consumers the fresh look of Vietnamese goods in recent years.
HO CHI MINH CITY
Tourism program of shopping at the end of year
The event was held throughout December, attracting 500 organizations and units that are shopping centers, markets, travel companies, accommodation and food services, health care with the participation of more than 1.000 outlets. The launching ceremony will take place at B area, 23/9 park, district 1 on 4/12.
Consumer promotion fair
The fair will take place from 28/12 to 3/1, gathered nearly 400 booths of businesses such as apparel, cosmetic, handicrafts, etc. This fair is a reliable shopping place for consumers in city as well as tourists. The event will take place at Phu Tho stadium, district 11.
Food festival "Taste of the world"
The annual culinary event "Taste of the world" this year will be held on 4 – 7/12 at B area, 23/9 park, district 1. This festival has 120 booths of 60 restaurants, hotels representing cuisine from 20 countries, ethnic groups and territories participating.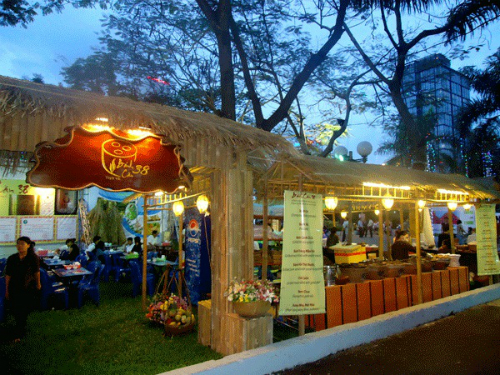 The space of food festival "Taste of the world" in 2013
Coming here, visitors will enjoy over 102 cakes imbued with national identity by more than 100 renowned chefs perform and process.
Welcoming ceremony of the first international tourists
Like every year, the "Welcoming of the first international tourists" ceremony of the New Year to Ho Chi Minh City will be held on 1/1/2015 at Tan Son Nhat airport. The event promises to bring unique traditional music items in a cheerful atmosphere with warm feelings for travelers arriving in this eventful city.
Source: Vnexpress.net