THE MOST INTERESTING CAFES IN HUE
If loving a ancient space, you can go to Paris café, Greatio Corner or loving the modern space is Coffee Cookie.
Hue attracts visitors not only by the delicious dishes, the beautiful scenery but also by the interesting cafes. Here are four cafes which you can come when visiting in Hue:


1. Coffee Cookie – The café for busy people
Takeaway coffee is very popular because it meets the needs of a lot of people in the modern life. Coffee Cookie is a café like that. Located on Ho Dac Di street, this café has the wide frontage and the modern style. But when coming here you will know this place not simply to sell "takeaway coffee"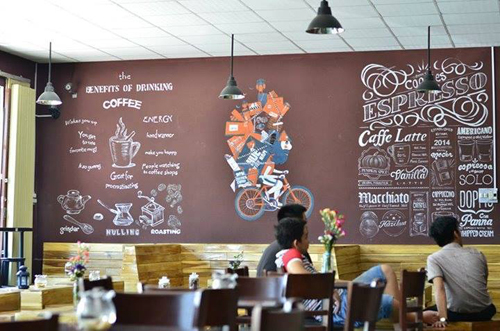 A impressive thing in Coffee Cookie. Photo: Cookie Coffee.
The decor of Coffee Cookie is inspired by the dynamic life. That's luxurious and personality. Not only that, the furniture in here is designed entirely by the wood creating feeling of closeness. With hot color style, this place brings for you the warm feeling when coming here. You can sit facing the window to watch the streets.
The menu in here is also a remarkable thing. The drinks not only is decorated finical but also have the strange style and good-looking. There are many drinks like: Italy coffee, fruit cocktail, soda,..
2. Musik Lounge – The colorful space
A café has the open style, a space is enough large to meet. That are the things to tell about Musik Lounge, the café has unique style in Hue.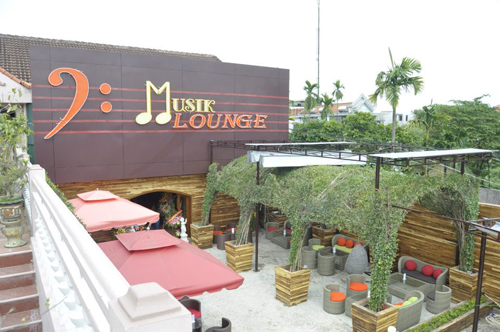 Musik Lounge also has the outdoor space for those who love airy. Located on Tung Thien Vuong street, Photo: Musik Lounge.
Musik Lounge has two separate spaces: indoor and outdoor. If the indoor space has warm sofas, the outdoor space bring a lot of different feeling .
Beside of the attractive décor, this café also has many delicious drinks for customer as yogurt, ice cream smoothie, tea and the snacks like fries, fruit,…If luckily you also have the opportunity to meet and interact with many famous singers like Hien Thuc, Le Hieu,…
3. Paris – The style France
This place is also known as the Paris miniature in Hue. The café name France's capital being the interesting destination for a lot of people.


The ancient café is located Hoang Hoa Tham street. Photo: Coffee
Located near Trang Tien bridge and Huong river, so this place is decorated the ancient style. Anyone comes Paris,they recognize this café is a French villa. The owner was very ingenious when arranging the furniture simple, enough to show off the rustic and peaceful beauty.
Paris is the interesting destination for those who love the ancient, peaceful beauty. If you feel sad and worried in your mind, you can come this place to enjoy the gentle songs.
4. Greatio Corner – The space for the young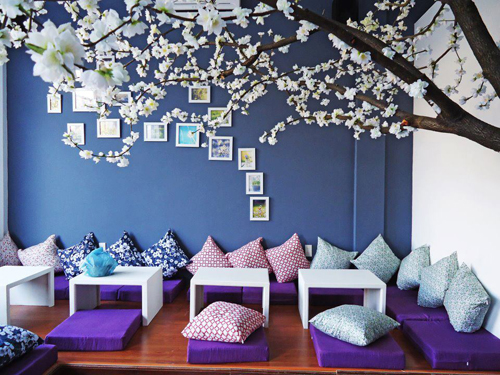 Gratio Corner is on Truong Chinh, Hue. Photo: Corner.
Greatio Corner has the youthful style, this place is decorated to be intended for the young. The drinks in this café are quite modern and have the new style. There are a lot of drinks which the young love like: smoothies, ice blenders,…
Source: Vnexpress