THE SIGN TO BRAND IDENTITY OF VIETNAM TOURISM
A new symbol of Vietnam Tourism is the lotus with the message "Vietnam – Timeless Charm".
Thursday morning (4/12/2014) in Hanoi, General Department of Tourism introduced the instruction for using of the brand identity "Vietnam – Timeless Charm" to enhance the brand development of Vietnam Tourism, building the strategic brand development of Vietnam Tourism by 2020 with a vision to 2030.
According to Mr.Nguyen Van Tuan, General Director/General Directorate of Tourism, deriving from the need to build and develop a consistent brand, the past time Vietnam's tourism industry has deployed the strategic brand development of Vietnam Tourism with the help of EU project.
The lotus was chosen to make the main symbol for Vietnam Tourism, it's designed with 5 petals and 5 different colors to show the diversity of tourist destinations, the charm, the rich experiences and the nice feeling of visitors when coming Vietnam.  According to Eastern philosophy, number 5 shows the hope and the harmony to perfection of the values of life.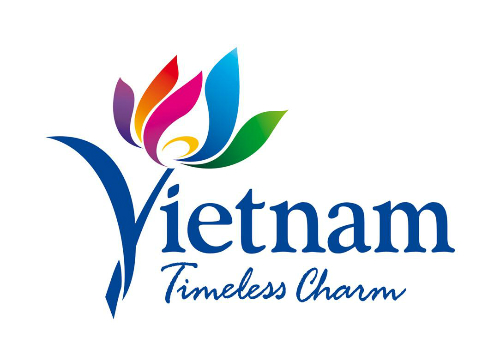 The slogan "Vietnam – Timeless Charm" is the succession of the slogans ahead, showing the charm and the longevity of tourism products of Vietnam. Photo: vietnamtourism.gov.vn
The content of the document introduces the structure of the brand " Vietnam – Timeless Charm" with the basic values of Vietnam Tourism including: the time, the intense beauty, the mystery and the commitment.
The time: This brand would like to assert that Vietnam is a destination which brings the time to relax and enjoy true for tourists to revive the health and the spirit through new experiences.
The intense beauty: the tourism resources of Vietnam like: sea, island, forest,…it will bring the experiences, the strong feelings for visitors.
The mystery: Vietnamese culture with ethnic groups, religions, beliefs, oriental traditions…That's the mystic things for a lot of international tourists who would like to discover Vietnam.
The commitment: Vietnam is committed to providing the best service.
Along with the basic values, the brand "Vietnam – Timeless Charm" of General Department of Tourism also introduces four main product lines including: marine and island tourism, cultural tourism, tourism in association with nature and city tourism.
The branch of the regional brand need to be built and developed based on the values and the attributes of a common brand "Vietnam – Timeless Charm".
Source: Vnexpress