Vietnam should expand the scope of permanent resident foreigner to attract talents
On 11th October 2013 afternoon, Mr. Huynh Nghia-Standing Member of the City Commission chaired conference to collect opinions about entry, exit and resident law draft for foreigner in Vietnam. Le Xuan Vien Colonel and many representatives from related sectors attended this conference also.
>> Why is Vietnam Visa exemption better for tourism?
All delegates agreed with structure and contents of law draft. They think many new regulations of law draft are necessary such as visa regulations about valid, sign. New rules are so appreciated with purpose of resident foreigner.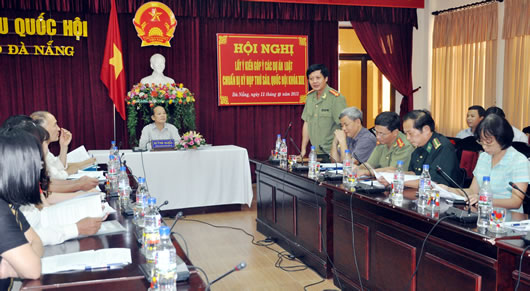 Mr. Le Xuan Vien was stating at conference to discuss entry new law draft
Some new items will be included in new entry law draft such as:
1. If resident foreigner want to invest into Vietnam, they have to present visa accompany with investment certificate's authority from valid officer. If resident foreigner wants to work in Vietnam, they must show up license from labor management. Those of new regulations to solve some last problems such as some foreigner come to Vietnam with tourism purpose firstly, but then they change from tourism to worker or investor.

2. If resident foreigner in exemption visa case, they must have a more than 6 month valid passport and at least 1 month from last entry except official passport and diplomatic passport for who works with Vietnam officers, organizations. This rule will reduce the state that resident foreigners make advantage of visa exemption to permanent living in Vietnam.

3. Delegates also agree to expand the scope of permanent resident foreigner to attract talents. This agreement relates to grant permanent certificate. This also contributes to build Vietnam economy and manage resident foreigners who had stayed provisionally in Vietnam before 2000 without passport and then reduce resident foreigners who stay without visa.
The opinions of delegate will be collected and supplement to perfect and then report to National Assembly Standing Committee after presenting to Congress.
Have a nice day !
By Vietnam-evisa.org team.
References from: http://cadn.com.vn/new/75_104150_nen-mo-ro-ng-do-i-tuo-ng-nguo-i-nuo-c-ngoa-i-duo-c.aspx