Vietnam to consider visa exemption for Luxembourg citizens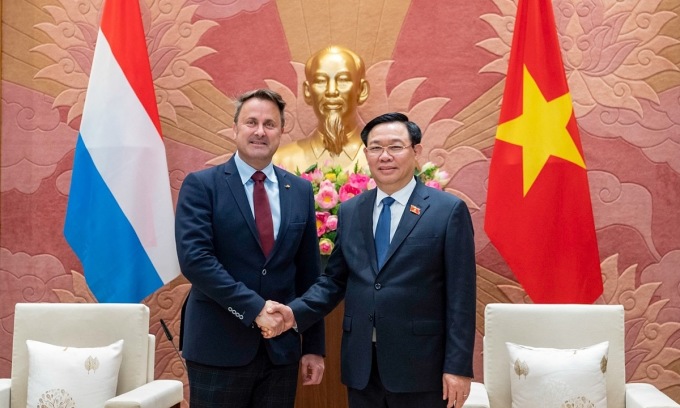 Luxembourg Prime Minister Xavier Bettel (L) shakes hands with Vietnam's National Assembly Chairman Vuong Dinh Hue during a meeting in Hanoi, May 4, 2023.
According to its chairman, Vuong Dinh Hue, the National Assembly will discuss abolishing visa requirements for nationals of Luxembourg at its upcoming session.
He was speaking at a meeting with Luxembourg Prime Minister Xavier Bettel, who is on a three-day visit to Vietnam, the Vietnam Government Portal reported.
Bettel had originally believed that in addition to enhancing economic relations, trade, and people-to-people interactions between the two nations, Vietnam would soon remove visa requirements for nationals of his nation.
The NA's next session begins next week.
The government has submitted proposals to lawmakers to increase the visa period for foreigners from the current 30 days to three months and triple the duration of visa-free stays to 45 days for visitors from certain countries.
Vietnam currently provides a one-month single-entry e-visa to travelers from 80 other countries and waives visa requirements for citizens of 25 additional nations.
All other nationals have to obtain visas at Vietnamese embassies and consulates in their country.