How can Colombia citizens apply for Vietnam visa on arrival?
Legal Vietnam visa on arrival for Colombians
Basis of Vietnam visa on arrival
As described in Article 18- Grant of Vietnam visa on arrival of Law on on foreigners' entry into, exit from, transit through and residence in Vietnam from June 16, 2014: A foreigner may be granted a visa at an international border gate in the following cases:
a/ He/she departs from a country without a Vietnamese agency competent to grant visas;
b/ He/she has to travel through many countries before arriving in Vietnam;
c/ He/she enters Vietnam on a tour organized by an international travel agent in Vietnam;
d/ He/she is a crewmember on board a foreign ship anchoring at a Vietnamese seaport and wishes to leave Vietnam through another border gate;
dd/ He/she enters Vietnam to attend the funeral of a relative, or to visit a seriously ill relative;
e/ He/she enters Vietnam to join in the handling of urgent incidents, search and rescue, prevention and control of natural disasters or epidemics or for other special purposes at the request of a competent Vietnamese agency.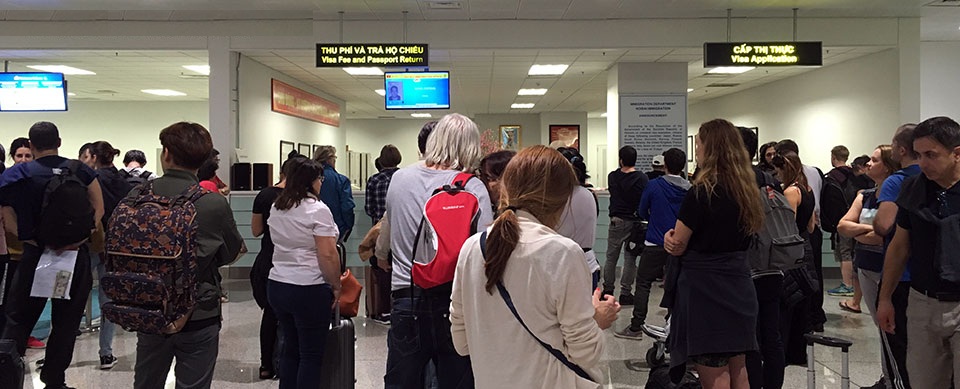 Foreigners pick up visa stamp at the airport in Vietnam
Source: Internet
Notice of applying for visa upon arrival on our website
You must hava a passport which is at least 6 months valid. More than that, there had been better one blank page or more for the visa stamp provision.
Additionally, you can travel by air only once using visa on arrival to enter the country.