Up to one year Vietnam visa on arrival for Indonesians
When does Indonesia passport holders need to apply for Vietnam visa on arrival?
Thirty day Vietnam visa exemption for Indonesians
The bilateral diplomatic note which is entered into force on 19/9/1998 has stated:
- Exemption of visa is granted to bearers of diplomatic passports or official passports with the stay duration not exceeding 14 days.
- Members of the diplomatic missions, consular posts and their spouses, children accompanying diplomats or passports shall apply for visas before working on their terms.
- Grant free visas to bearers of ordinary passports invited to participate in ASEAN activities organized by the ASEAN Secretariat or agencies or organizations under the Government .
Agreement between the Government of the Socialist Republic of Vietnam and the Government of the Republic of Indonesia on visa exemption for holders of general passports signed on 26 June 2003, December 4, 2003:
Exemption of visa is granted to bearers of ordinary passports with a stay duration not exceeding 30 days, provided that the passport must be valid for at least 6 months. The duration of the stay is not extended.
Notice: For foreigner who enters Vietnam as unilateral visa-exempted: the entry date must be at least 30 days from the previous exit as unilateral visa-exempted person. Otherwise that person is required to have approprate visa to enter Viet Nam.
In case, you can not meet the required conditions above, please apply for Vietnam visa on arrival on our website which you will use to travel to the country without any individual effort.
Simple Vietnam visa on arrival procedure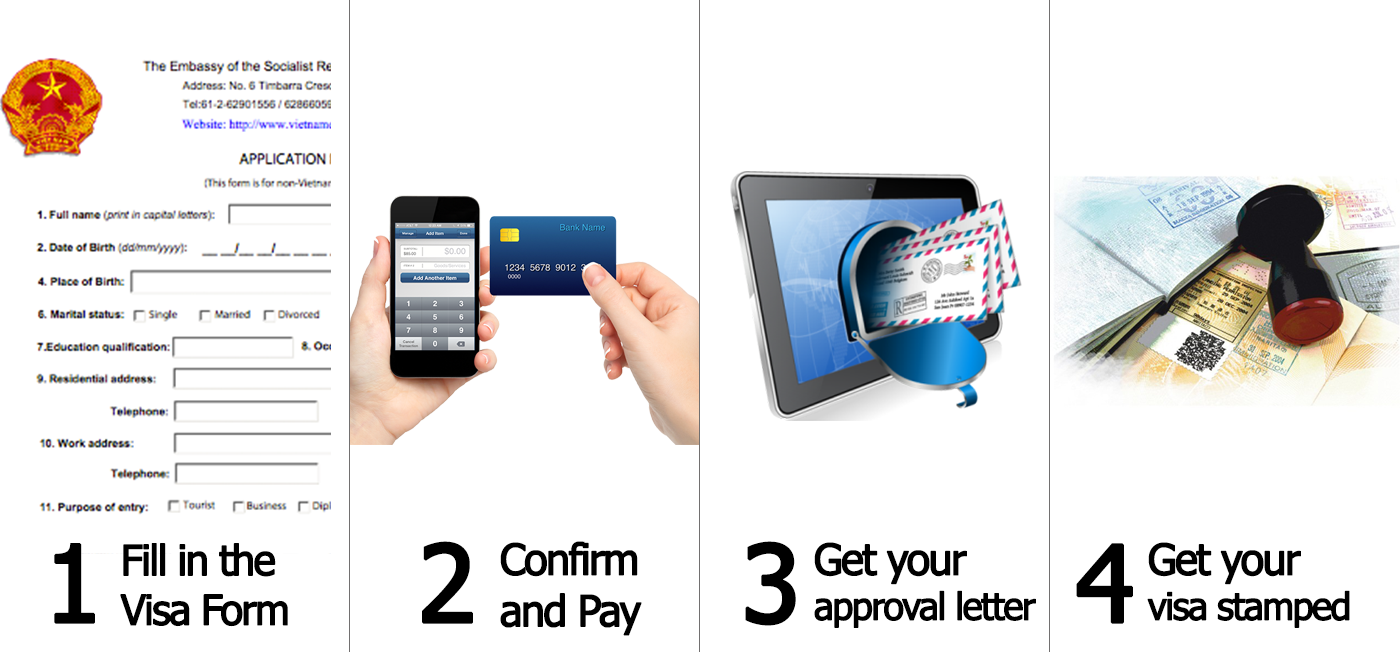 Vietnam visa process
Source: Internet
This is legitimate Vietnam visa approved by the Vietnam Immigration Department with which you will use to enter into the territory when arriving at Vietnamese International major airports. Applying for it means that:
You won't waste time travelling to Vietnamese Embassy in this case;
You don't need to submit any document;
You must queue up at the airport to get visa stamp;
It is valid for travellers coming to Vietnam by air onlyl;
You must apply for it before arriving.