Adoption procedure for temporary residence in Vietnam
Some useful information about adoption procedure for those want to adopt Vietnamese children will be presented in below.
(For children are recommend to adopt living temporary in Ho Chi Minh City case)
1. Officer receive adoption dossier
Department of Justice in Ho Chi Minh City is in charge of settlement adoption case of foreign elements. It's located in 141-143 Pasteur Street, ward 6, district 3, Ho Chi Minh City. Phone number is 38251402.
2. Details on dossier
2.1. The dossier of adopter
Foreigners who are temporary residences in Vietnam want to adopt Vietnamese children must present these documents in dossier in below:
Application for adoption (comply with Vietnam form)
Duplicate of passport or identity card or alternative valid documents
Judicial certification
Certification of marital status in text
Heath certificate issued by medical district to ward levels; certificate of family circumstances, accommodation status; financial status issued by Commute people's Committee in which adopter lives temporary.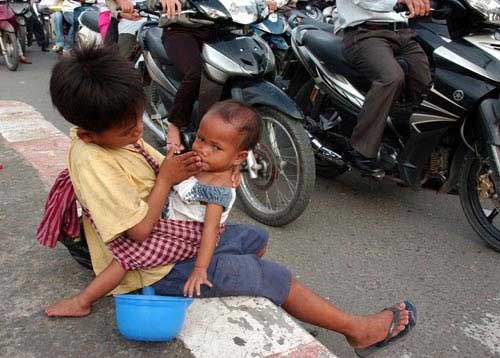 Street children in Vietnam
2.2. The dossier of children will be adopted
Certificate of birth
Heath certificate issued by medical district to ward levels
2 images all body, straight face and at least 6 months valid
Certificate of people's committee or police from commute levels which discovered abandoned children (for abandoned case); certificate of dead of adopted children's parents or court decision declared the dead of adopted children's parents; court decision declared the disappearance of adopted children's parents; court decision declared insane of adopted children's parents.
Certificate adoption of foster facilities
Description on characteristic or favorite of children (not request for stepfather or stepmother cases).
Parents or guardians or foster facilities must complete the dossier of children who will be adopted;
3. Note
3.1. Requirement for adopter
Having full of civil capacity;
Older 40 years old than adopted children;
Being in good health, stable finance, good accommodation for nurturing and educating adopted children
3.2. Follow cases don't permit for adoptions
Being limited some rights of fathers or mothers for juvenile
Being treated in administrative decision on education agencies, medical examination agencies;
Being prison sentence;
Not yet cleared about intentionally infringe upon civil life, heath, dignity and honor, mistreated or abused grandparents, parents, spouse, children, grandchildren and fosterers, coerce or entice juvenile to act in crime; purchase or exchange or appropriate children.
Documents used in adoption of person or agencies issued by authority foreigner must legalized Vietnam law, excepted the case don't need to legalized follow Vietnam law.
All documents used in adoption must translate in Vietnamese language.
Have a nice day !
By Vietnam-evisa.org team
Soure from site of Department of Justice - Vietnam
Melissa Fleming

United Kingdom

Adoption procedure/ temporary residence/ Vietnam

May 01, 2015

Thank you for all of the information on adoption. I would like to ask if Vietnam has a bilateral agreement with either the U.K or Canada?

From your experience; How long does the internal adoption process take within Vietnam?

Thank you.

Vietnam Evisa Support

May 01, 2015

Dear Sir/Madam,

we are so sorry to inform that we just support you get visa on arrival . So we can not help you in this case.

 

Any help,please feel free to contact us.

Best Regards,

Evisa Team