Vietnam Government Committed To Ensure The Safety Of Foreign Citizens
The Vietnam's Foreign Ministry said that it would use all measures necessary to ensure the safety of human and property of foreign firms after violent protests against China's oil rig in Vietnamese sea of some troublemakers. This problem does NOT effect to your trip to Vietnam because all of Vietnamese are friendly and peacefull.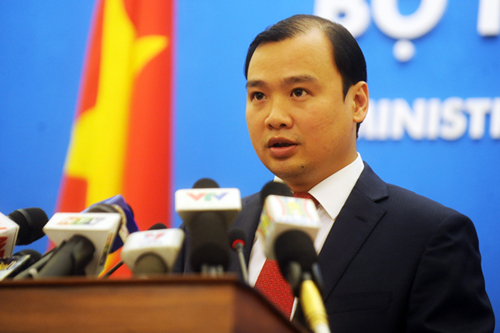 Le Hai Binh - The spokesman of Vietnam Foreign Ministry
In a press conference of Foreign Ministry on 15th May, the spokesman Le Hai Binh repeat of what happened in Binh Duong on 13th May, in which a number of people took advantage of the peaceful protest to incite workers damaged businesses property, losing security. As soon as the incident happened, the Vietnam authorities have urgently suppressed and strictly punished those who have law-breaking behaviors.
"The act of destruction of property by some agitation objects. Such action is condemned by the government and the vast majority of Vietnamese", Mr. Binh said.
"We confirmed that we would use all measures necessary to ensure the safety of human and property, ensuring the rights of the legitimate interests of businesses, including Taiwan firms on the whole territory of Vietnam, as well as in Binh Duong".
Referring to the same thing happened in Ha Tinh, Mr. Binh led information from provincial authorities that the scuffles occurred due to a conflict between two groups of workers made one person dead and some injured. The authorities are urgently verifying the incident, arrested the troublemakers and take the injured to hospital.
He also dismissed report of a foreign news agency that there are 20 people died in clashes in Ha Tinh. "That information is baseless", he said.
"Expressing patriotism and determination to defend its sovereignty is extremely plausible and natural. However, it must comply with the law, consistent friendship with nations in the worlds", Mr. Binh said.
According to him, the local situation is stable now. In term of commerce, trade in border areas of Vietnam and China still occur normally.
Source: Vnexpress
Have a nice day!
Vietnam Visa Team