WHAT IS THE VIETNAM PRIVATE APPROVAL LETTER?
Sometimes, we receive questions like "Why does my approval letter have personal information of strange people?", "May my personal information be sent to the others? Even they are shocked when receiving the shared visa approval letter granted by Vietnam Immigration Department from us.
As Vietnam Immigration does not have enough time to sign or manage approval letter for each of applicants, they list the applicants on the same visa approval letter. It's common and completely legal. The applicants in the list also get visa stamp normally at Vietnam airport. Certainly the applicant's info is going to be changed a little bit before sending the others in the list to secure the individual information. However some of applicants do not satisfy it. To match this need we operated a new service for private letter.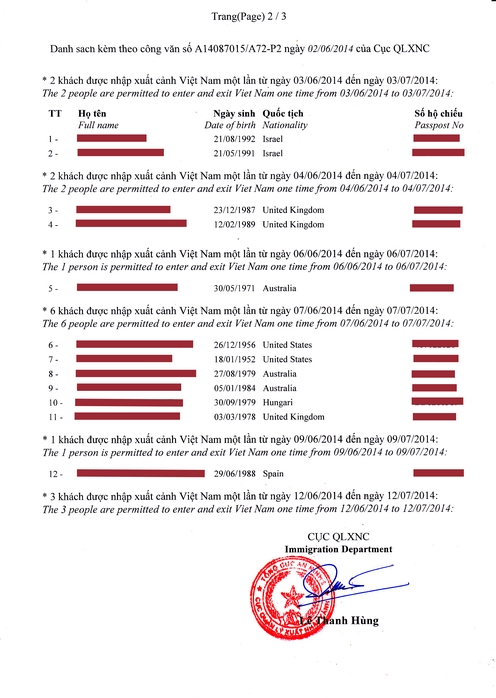 A sample of the shared visa approval letter which has many strange names appearing in the same letter.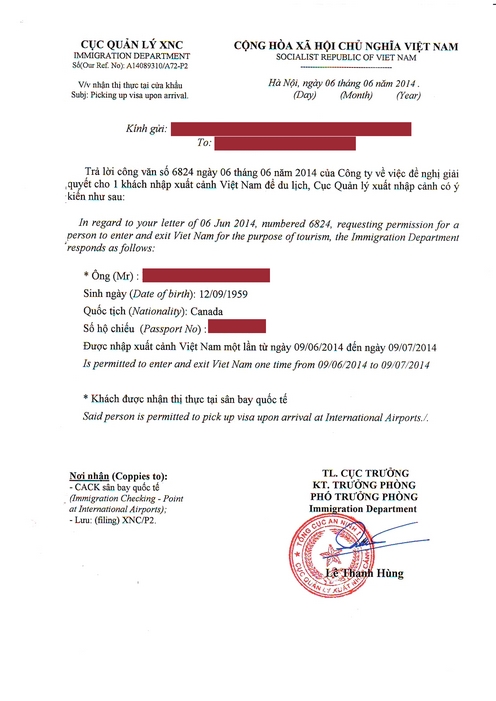 A sample of private visa approval letter which has an unique name appearing in an issued document.
From now, you can have peace of mind to get Vietnam visa approval letter without worry.
EVISA TEAM
Photos

Jun 12, 2018

Dear Sir,

May I ask if my colleague who is US citizen will apply visa online but he doesn't prepare photos. Do you have the photo machine at the airport (HCMC) ?

Vietnam Evisa Support

Jun 13, 2018

DEAR GINA,

Thank you for your concern.

If you don't have photos, you can have them taken at the arrival airport and it costs 5 USD/person in HCM (2 USD/person in Hanoi).


Best Regards.
Stepfanno Tran (Mr. )

businessman

Feb 09, 2015

I go through your website and found that foreigner can buy house of flat in your country . In such case what is the eligibility to buy a house and what is the price structure, an area basis.( per sq mtr). Kindly let me know asap.

Vietnam Evisa Support

Feb 09, 2015

Dear Sir,

 

Thanks for your question. We regret to inform that we just support you in visa field. If you want to buy houses or flats, please contact the agency reponsible for this. 

If you have more questions, just feel free to ask. 

 

Best regards, 

Evisa Team.